Truck Driver Info
Truck Driver
Truck drivers are found on every American interstate and highway. All products found in a store are delivered by a truck driver. Ocean cruisers, planes, and trains may ship products to a port or distribution center, but trucks ship these products to stores.

Prior to getting on the highway to make deliveries, truck drivers check fuel and oil levels, as well as examining the lights, safety equipment, brakes, and windshield wipers on their trucks. They must also ensure their rearview mirrors are properly adjusted and the freight they are transporting is securely fastened. Any damaged or improperly loaded freight must be reported to a dispatcher.

The United States Department of Transportation requires that truck drivers maintain records about their daily work activities, operating conditions of their trucks, and, if a driver is involved in an accident, a report of the accident details.

Truck drivers who transport loads totaling 26,000 pounds Gross Vehicle Weight (GVW) or more are known as heavy truck or tractor trailer truck drivers. These drivers move livestock, automobiles, and any other load meeting or exceeding 26,000 lbs GVW. They often travel long distances, so many companies transport these loads with two drivers so one can sleep while the other drives. When two drivers work together, they sometimes drive routes that can last days or weeks. They usually only stop to eat, fill their trucks with gas, and unload their freight.

Certain drivers moving these heavy loads transport freight to one city on a continual basis, and some drivers transport freight on an unscheduled basis whenever clients request shipments.

Truck drivers transporting heavy loads far distances spend most their time driving. These drivers usually are certified to unload the freight they transport. Sometimes when it does not require special skills to unload freight, drivers hire local employees at their delivery destinations to unload it. Drivers who transport freight weighing under 26,000 lbs GVW are known as light delivery service drivers. They usually have assigned delivery routes. They frequently make deliveries to a city, make a pick up, and deliver the cargo back to the city their company is based out of. Drivers utilize electronic tracking technology to keep track of freight, and these drivers are usually responsible for loading and unloading freight. They usually only hire outside help if they are moving heavy merchandise or have responsibility for numerous deliveries during the day. Once drivers complete their shifts, they must turn in payments, delivery records, and report any truck problems to their supervisors.

Driver's duties and route lengths are usually determined by the type of freight they transport and the size of their trucks. Local drivers usually service a specific region daily, and the schedules and routes for drivers who transport merchandise across interstate highways often changes.

Local truck drivers are often assigned customer service and sales duties. Commonly referred to as driver/sales specialists or route drivers, they sell and deliver their company's merchandise across set routes. Since these drivers have customer service responsibilities, the manner in which they deal with a customer can determine whether they keep them as customers. They usually collect money and take their customers' orders.

The responsibilities of truckers with sales duties depend on the industry they are employed in and their company's sales policies. They usually deliver products to stores and distributors and usually do not make deliveries to personal residences. These drivers often monitor store shelves to determine what items are popular and make recommendations to their customers. Laundry companies that provide businesses with rented clothes usually dispatch truckers to pick up dirty laundry. Many drivers are required seek additional customers when they travel their routes.

Once they have finished their routes, drivers specializing in sales complete their orders for their next shifts according to clients' requests and merchandise sales.

Many trucking companies monitor their trucks' locations and provide truckers with weather and traffic conditions using GPS systems or satellite technology. This technology also enables drivers to coordinate deliveries and report any problems to dispatchers. In addition, satellite technology also monitors fuel levels and motor performance. Modern trucks are usually equipped with computerized freight tracking technology.

Work environment. Modern trucks are usually designed for trucker comfort, so the job is not as tiring as it used to be, but driving all day and unloading and loading heavy freight can be physically exhausting. Truckers who drive local routes are usually home at night. Truckers who own their own trucks and make long distance deliveries are away from home a lot.

United States Department of Transportation regulations determine the hours for truckers making interstate deliveries. Drivers making interstate deliveries can only work 14 continuous hours, only driving 11 hours. Once they are done working, truckers must have at least 10 hours off. Drivers are also restricted from driving after working 60 hours during a week or 70 hours in an 8 day period. They may continue their work after resting for at least 34 consecutive hours. Truckers must record their hours in logbooks. Since they are often paid per mile or hours driven, truckers usually work as many hours as they are permitted by law. Most truckers must work evenings, weekends, and holidays, so many struggle with loneliness and exhausting.

Truckers driving local routes usually spend 50 or more hours working every week. Truckers delivering food or products to grocery stores often work very long shifts beginning in the early mornings or late evenings. Truckers usually make their deliveries on standard routes, but some truckers routes change daily. Drivers with local routes and sales responsibilities usually load and unload merchandise, so these workers can fatigue quickly from lifting heavy loads.
We employ three types of professional drivers: solo, team and driver technicians.
Our solo and team drivers safely and efficiently deliver liquid bulk gases to Air Products plants and customers throughout the world. This includes being responsible for the preparation and completion of Air Products paperwork and adhering to our safety policies and procedures.
Driver technicians (Express Service Drivers) travel to our customer sites across a wide geography with nitrogen services equipment to purge lines and perform various duties.
Driver Benefits
Set schedule with 2 consecutive days off

Maintenance free trucks

No backbreaking loading/unloading of freight

Paid training

Company provided personal protective equipment (PPE)

Affordable benefits

Paid holidays and vacation

Retirement savings plans

Company-paid life insurance
Driver Qualifications
Minimum 24 years old with a high school diploma or GED

Valid Class A CDL with Tanker and Hazmat endorsements

Minimum 3 yrs current interstate or over the road (OTR) tractor trailer experience

Solid safety record and stable work history

Must meet all government transportation requirements

Ability to work off-hours and weekends
Truck drivers are a lot like deliveries...You need to be handled with care.
A Growing Demand For Truck Driving
It's a competitive world out there and with the ongoing demand for truck driving, you have a lot of choices.

You want:
Flexibility in your schedule
Route and delivery options
Access to the best truck driving jobs and opportunities
Equally, if not more importantly, you need:
A competitive salary to keep you ahead of the ever-changing economy
Health benefits for you and your family
The opportunity to earn bonuses and extra cash
At the same time, you crave:
Guidance in finding the right truck driving jobs
Independence while on the road
A sense of connection and partnership with a network of people and resources
There's a lot to be said about finding the perfect truck driver job... and it starts with finding the perfect staffing service to get you on your way. That's how Select Truckers Plus can help! Attracting CDL and non-CDL drivers and ensuring they are qualified to meet our high standards is critical. But retaining good truck drivers is also extremely important!

Through in-depth interviews, our staff personally gets to know you, your motivations, and goals. Mindful that truck drivers are regularly away from friends and family, we go the extra mile to show our appreciation and support. We want to ensure that you feel connected at all times as a part of The Select Family of Staffing Companies, one of the largest staffing companies in the nation. We care about your job satisfaction, career success, and well-being. We handle all workers' compensation insurance, vacations, holiday pay, family insurance, and payroll issues. In doing so, our clients receive the best of both worlds - good truck drivers at minimum expense!
Pallet Jacks Information
Pallet jacks, also known as pallet trucks, are mechanical tools used to haul and maneuver items of freight. They are best suited for short distances and usually only elevate a load high enough for unobstructed travel. They are often used in conjunction with a pallet or skid, but many types of loads can be supported by the jack's forks.
Pallet Jack Operation
As the name implies, pallet jacks are frequently relied upon to transport pallets of materials. Pallets are used to provide a structural foundation and common footprint of various materials requiring transport; items on the pallet are usually secured via shrink wrap or bundling. This containerization makes shipping and handling more efficient across many industries. Pallet jacks do not replace the elevation or hauling capabilities of a forklift, but often supplement a forklift in warehouse situations as they are more nimble and manually-powered models do not require recharging/refueling. They are often used in retail stores because of their relatively low hazard risk.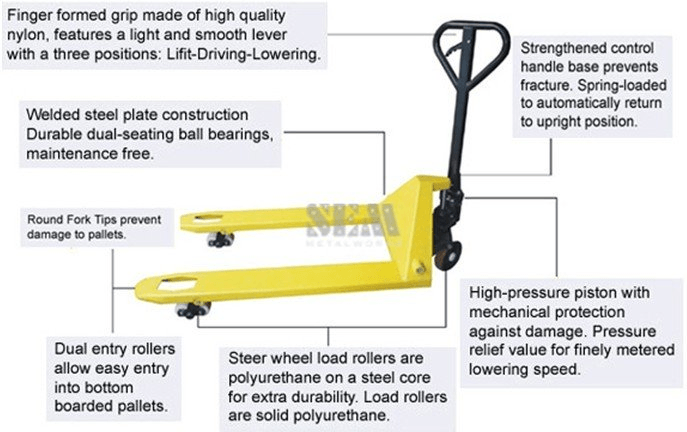 Image credits SEM Metalworks Co.
Size and Capacity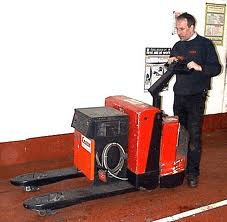 Pallet trucks almost always have fork widths of 7" or 9", but the measurement between the furthest edges of the forks can range between 20--47". The load-bearing span is known as the carriage. Models with a width above this range are used in specialty applications and some models come with an adjustable carriage width. The length of the forks is imperative to a pallet jack's ability to safety transport loads. Lengths often range from 32" to 90" depending upon the intended application.
The dimensions of the load-carrying components rarely determine the capacities of pallet jacks, which come in ranges of 1,000 to 15,000 lb. Higher-capacity pallet jacks are more likely to have additional components, such as a hand brake, reflectors, or motorized locomotion, to safely transport heavy burdens.

Lift
Elevation is always a product of a hydraulic or pneumatic input. Manual versions require the operator to pump the handle to supply fluid to the high-pressure piston; a purge valve lowers the forks back to the ground. Motorized versions will incorporate a hydraulic pump to supply lift. Stroke is the measurement of elevation that a pallet jack can provide and while most versions will have strokes of just several inches, some are capable of strokes calculable in feet.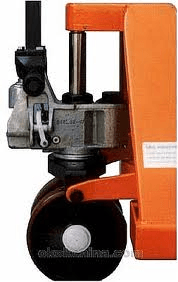 Hydraulic unit of pallet jack
Image credit: Ok Ok China

Freight Handling
While the pallet's intention is to ship materials in a widespread footprint to ease handling requirements, most parts of the world do not conform to a single pallet design. A pallet jack should accommodate the pallet size that is most utilized in the market and industry in which it serves. Recall that the pallet's overall dimensions are less significant than the span between fork entrances. It may also be important to consider the pallet's type and material. Few pallet jacks will incorporate an adjustable fork to better fulfill inter-market functionality.

Selected Pallet Sizes and Markets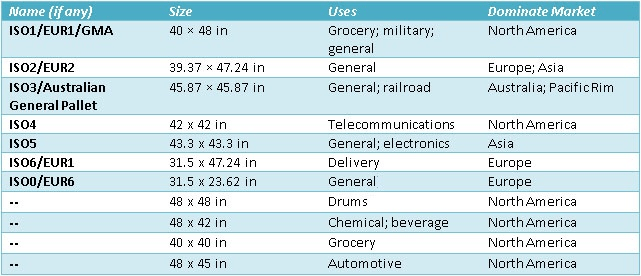 Mobility
Pallet jacks rely on four wheels to transport materials and are polyurethane, nylon, or rubber in composition. Smaller wheels recess into the jack's forks for loading (called load wheels) and unloading while larger, swiveling, tandem wheels are positioned around a hinged handle (steer wheels). This allows the operator to steer the pallet jack with a high degree of turning arc, typically up to 270°. For use outdoors, pallet jacks will have foam-filled or solid rubber tires to navigate terrain.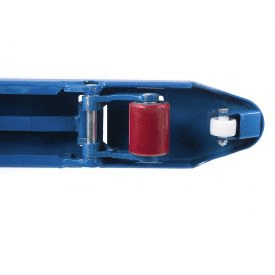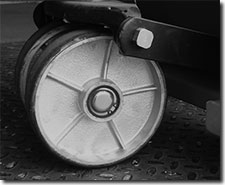 Load wheel (urethane or nylon); Steer wheels (urethan, nylon, or rubber)
Images credits: Global Industrial ; Service caster
Motorized pallet jacks usually incorporate a throttle for speed adjustment as well as a dead man's switch. Steering is still accomplished by handle positioning, but may utilize power steering. Motorized jacks tend to have a lower turning arc as well as a standing platform for the operator, both of which can restrict maneuverability.

Power Supply
The large majority of pallet jacks require the physical input of the operator for locomotion, braking, turning, and lift. This is an inexpensive and reliable option, but successive loading can fatigue employees.

For situations where very heavy burdens or repetitive loading is required, motorized pallet jacks may be more suitable. These types of pallet jacks are most commonly supplied with variable speed electric motors and heavy duty, rechargeable batteries. Outdoor-only, gasoline powered pallet jacks exist for extreme loads and rough terrain; they are common in lumber yards and construction sites.
Pallet Jack Features
Uncommon designs and attributes are integrated to improve a pallet jack's faculties in certain applications.
| | | |
| --- | --- | --- |
| Single fork | These designs have a single fork of abnormal width. They are recommended for moving irregular, cumbersome objects such as safes, ATMs, and vending machines. | Image credit: LiftMate |
| Angled forks | These jacks are retained for the hauling of large rolls, reels, and large sections of pipe. The aslant forks are capable of cradling round objects so they do not roll or shift during transport. | Image credit: Astha Enterprises |
| Corrosion resistant | Pallet jacks that are stainless steel or galvanized have an enriched structure to maintain functionality in corrosive environments. These jacks may have grease fittings and a specialized hydraulic pump. | Image credit: Forklift America |
| Low profile | These pallet jacks are designed to transport low clearance pallets. The forks have very low resting heights. | Image credit: Vestil Mfg. |
| Four-way | With long and low profile forks, the jack is designed to pick up a four-way pallet from any direction. | Image credit: Wesco Manufacturing |
| Tilting forks | After accepting a burden, the forks can lift and rotate the load 90°. The tilt may be toward the operator or the sides. This is an ergonomic solution to prevent worker fatigue/injury when distributing cargo off the pallet. | Image credit: Carry Lift Group |
| Scale | An integrated analog or digital scale calculates the weight of the pallet jack's load. The scale will have a user interface for calibration and display. | Image credit: Global Industrial |
| Scissor lift | A scissor lift mechanism is used to provide a higher stroke than what is supplied by a common hydraulic piston. This is used to provide ergonomic access to a pallet's content. | Image credit: Bernards Bins |
| Skid deck | A pallet jack that utilizes a high-gauge, solid steel deck rather than forks to lift and haul its burden. | Image credit: Pallet Mule |
European directories
European Secure Parking Organisation (ESPORG)

Database on the network of truck stops of the European organization ESPORG. The truck stops have different levels of security. You can use the relevant contact addresses given to obtain detailed information on the truck stops.

International Road Transport Union (IRU)

To use the services offered here, you need to register. Registration is free of charge.

The IRU provides its familiar list of truck stops in Europe, "Truck Parking Areas", in an online database under the name "TRANSpark". The findings of the EU project "LABEL" will also be incorporated in this database. Truck stop operators are able to create entries in the database themselves.

The European Truck Parking Area LABEL Project

Directory of 70 truck stops in Europe certified by the EU project "LABEL" (Creating a Label for (Secured) Truck Parking Areas along the Trans-European Road Network and Defining a Certification Process. Including Online Information Facility). Both the security facilities and the service facilities are certified. The results of the test conducted by the German Automobile Club ADAC according to the "Label" criteria were mixed.

TRUCKinform - the European truck parking information portal

Database containing more than 2800 truck stops in Europe. Some of these have security facilities. This database was based primarily on the IRU "Truck Parking Areas" directory as well as other sources. Truck stop operators are able to send data about their truck stop by e-mail.
Country-specific information
Belgium

Web site of the monitored truck stop at Heusden-Zolder. "Truckstop 26bis" is a member of ESPORG.

Web site of the monitored truck stop near Liege. "VP Park" is a member of ESPORG.

Germany

Web site of the secure truck stop in Wörnitz. "Autohof Wörnitz" is a member of ESPORG.

Web sight of the secure truck stop "Parc fermé" in Uhrsleben. "Rasthof Uhrsleben" is a member of ESPORG.

Estonia

Web site of the Sillamäe port operator. A monitored truck stop has been set up in the grounds of the port. It is also used as a holding area for customs clearance.

To News page / To brochure (pp 5 and

France

Web site of the secure truck stop "all4trucks" in Calais. "all4trucks" is a member of ESPORG.

To Web site

Overview of the secure truck stops on the French autoroutes.

To directory of locations

Directory of the monitored truck stops operated by "Park+. "Park+" is a member of ESPORG.

Web site for the monitored truck stop operated by "Sanef" in Vemars. "Sanef" is a member of ESPORG.

To Web site

Web site for the monitored truck stop operated by "SecuriTpark" in Niort.

To Web site

Information on the monitored truck stops operated by "Truck Etape". The truck stops have different levels of security. "Truck Etape" is a member of ESPORG.
To directory of locations

United Kingdom

Web site containing information on truck stops in Scotland and simple notes on security facilities.

Database of truck stops in England that allows you to search specifically for monitored truck stops. It is also possible to view a directory of locations containing information on the services available in the form of a PDF file.

Professional Drivers Association

Directory of truck stops in England, Scotland and Wales. Some of the truck stops are secure.

To the Web site / England / Scotland / Wales

Italy

PDF file containing an overview of normal and guarded truck stops in Italy as at May 2011.

Netherlands

The "Secure Lane" project provides a monitored corridor for trucks from Rotterdam to Venlo. In this project, truck stops and motorways are monitored by CCTV. If theft is suspected, the police will intervene.

Overview of truck stops in the Netherlands. The truck stops have been certified as compliant with the "Label" criteria.

Sweden

Web site of the monitored truck stop at Värnamo. "Safe Area AB" is a member of ESPORG.

Spain

Directory of the monitored truck stops operated by "abertis autopistas". " abertis autopistas " is a member of ESPORG.

Web site of the monitored truck stop operated by the "Padrosa Group" in Cataluna. "Padrosa Group" is a member of ESPORG.